Akron Law associate dean elected to the board of the American Association of Law Libraries
Emily M. Janoski-Haehlen, associate dean for academic affairs and institutional excellence, will serve a three-year term.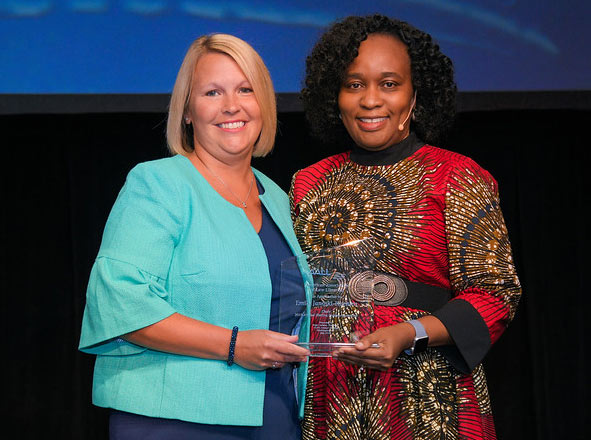 Akron Law's Emily Janoski-Haehlen, left, receives the Annual Meeting Program Committee Chair recognition from outgoing American Association of Law Libraries' President Femi Cadmus of the Duke University School of Law.
Emily M. Janoski-Haehlen—associate dean for academic affairs and institutional excellence, associate professor, and director of the Law Library at The Univer­sity of Akron School of Law (Akron Law)—has been elected to the eleven-member Executive Board of the American Association of Law Libraries (AALL) for the 2019-22 term. She is the outgoing program chair of the AALL Annual Meeting & Conference, which took place in Washington D.C. in July.  
Two days after the meeting, she spent the day lobbying on Capitol Hill on behalf of the AALL for the Electronic Court Records Reform Act, net neutrality, and the funding of the Library of Congress. She met with Ohio Sens. Rob Portman and Sherrod Brown and Cong. David Joyce. In addition, she was appointed to the International Legal Technology Association (ILTA) Academic Advisory Board and was named the academic community champion by ILTA.

"I am proud, but not surprised, that Dean Janoski-Haehlen's outstanding leadership has been recognized by the AALL and the ILTA," said Christopher J. (C.J.) Peters, dean of Akron Law. "Our students, faculty and staff benefit from Emily's innovative spirit and good judgment every day. Along with her leadership qualities, Emily's nationally recognized expertise in the role of technology in law practice and legal education makes her an ideal member of the AALL Executive Board and the ILTA Academic Advisory Board."
Janoski-Haehlen joined the Akron Law faculty in 2017. In addition to her administrative duties as associate dean, she also teaches Technology in Law and Legal Drafting. Her current research explores social media law, internet privacy, artificial intelligence, legal research instruction strategies, and technology in the practice of law.
Prior to joining Akron Law, Janoski-Haehlen served as associate dean of the law library at Valparaiso University Law School and as a faculty member and librarian at Northern Kentucky University Chase College of Law. She is a member of the Kentucky Bar Association, and the Ohio Regional Association of Law Libraries, and she serves on accreditation teams for the American Bar Association.
She earned her B.S. in History and her M.S. in Library Science from the University of Kentucky and her J.D. from Northern Kentucky University.
The AALL is the only national association dedicated to the legal information profession and its professionals. Founded in 1906, AALL today has more than 4,100 members.
---
Go to